BUILT FOR RESTAURANTS
You don't need CMMS to manage your restaurant equipment repairs.
86 Repairs manages the end-to-end restaurant repair and maintenance process for you so you can keep your team focused on what matters.
HOW WE'RE DIFFERENT
Restaurant CMMS software and facility management software won't help you solve your repair and maintenance issues.
Want to see just how different working with 86 Repairs is compared to purchasing a CMMS?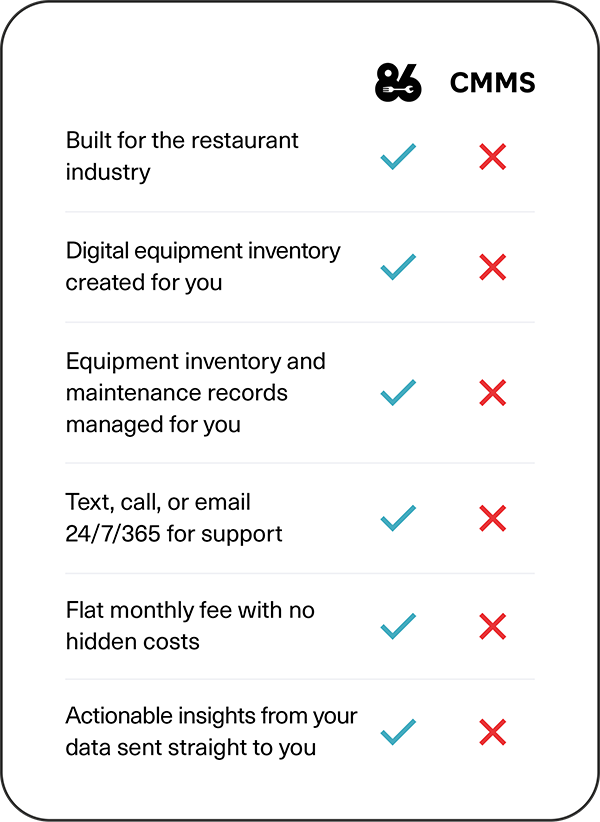 Why is managing restaurant equipment repairs so hard?
Because your team aren't repair and maintenance experts they don't know how to make strategic decisions on equipment, infrastructure, or service incident management, and they don't have the data to back it up.
If you want real insights to help you save money on R&M you need consistent, clean data, not just a restaurant management system with slick dashboards and reports.
With actionable data, you can answer these questions related to service and repair management:
Am I working with the best service provider in my market?
Am I paying a fair price for this repair?
When should I stop repairing equipment and replace?
What is the total cost of ownership on our equipment?
Do I have the best vendor mix?
86 Repairs is the #1 restaurant CMMS vendor alternative. Let us manage your restaurant maintenance operations and help you save time and money on repairs.
When I heard about 86 Repairs, I immediately saw the value. Their job is to handle one-off issues as they happen, create preventative maintenance (PM) services to limit future downtimes, and ensure all vendors are managed correctly. Because they speak the language of the trades, they can work with technicians to accomplish more, stay on time, and limit the scope of work to what is essential. 86 Repairs is a great partner and I highly recommend them to any organization.
SCHEDULE A DISCOVERY CALL
Ready to ditch your CMMS for a solution designed specifically for the restaurant industry? Let's talk.