THE REPAIR AND MAINTENANCE SOLUTION FOR RESTAURANTS
Get greater consistency, visibility, and control of your kitchens
Whether using 86 Repairs to handle on-demand repair management or preventative maintenance, we take repairs off your plate so you can focus on running your restaurant and serving your customers.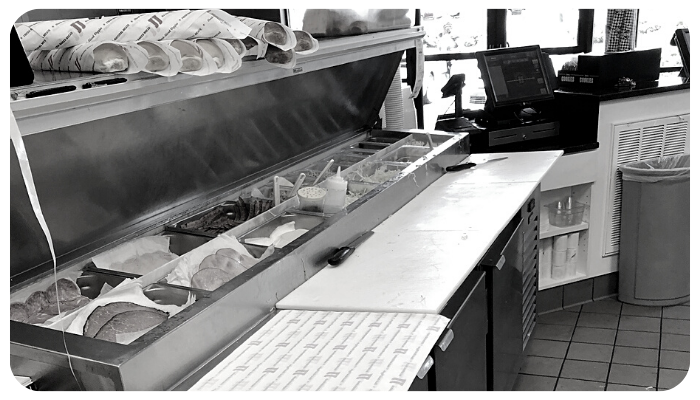 WHAT WE DO
We manage the end-to-end equipment repair and maintenance process for you.
With 86 Repairs, multi-unit restaurant operators have access to data-driven insights and consistent support to control their facilities, reduce their R&M line item, and spend less of their team's time on equipment repairs.
ON-DEMAND REPAIR MANAGEMENT
Get 24/7/365 support from our in-house team.
What if managing repairs was as simple as sending a text? Our tech-enabled solution offers a modern approach to managing R&M.
PREVENTATIVE MAINTENANCE
Reduce downtime with preventative maintenance.
Using your data and service history, we help you make the most of your resources to control costs and get ahead of reactive issues.


ACTIONABLE DATA AND INSIGHTS
We simplify your R&M data to maximize uptime.
No more time spent staring at spreadsheets to make sense of your spending. Your data is at your fingertips to give you complete visibility.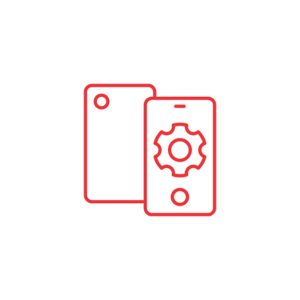 SINGLE POINT-OF-CONTACT FOR REPAIRS
24/7/365 call, text, or email support
Count on 86 whenever, wherever, on-site, or on the go. Our in-house team is always available to manage service requests from start to finish on your behalf.
One Number to Call/Text
End-to-End Communication
Get Control of R&M Across Locations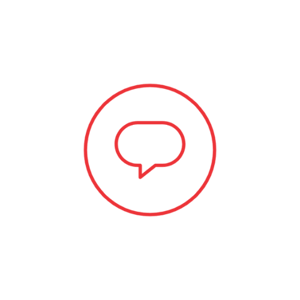 END-TO-END SUPPORT
From work order to invoice collection, we're here to manage repairs for you.
We work directly with your preferred vendors and our network of providers for dispatching, scheduling, and documentation of completion. Count on us to enhance your existing facilities team or become a virtual extension of your operations.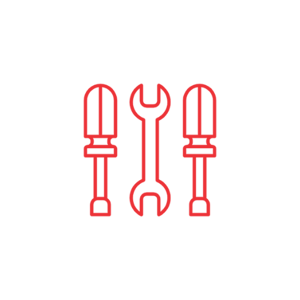 ASSET MANAGEMENT
Your kitchen is useless without fully functioning equipment.
We create custom digital inventories of your kitchen assets across locations to accurately track service history, spend, and warranty status. When issues arise, avoid unnecessary service visits with verified troubleshooting and access to comparative performance data.
Digital Equipment Inventories Built For You
Verified Troubleshooting
Collective Service History on 55k+ Assets
Track Service History, Spend, and Warranty Status Across Locations
ANALYTICS AND OPERATIONAL INSIGHTS
Access all the data you need to optimize R&M.
Without crunching numbers or building reports. We track performance data across tens of thousands of assets so you can make better decisions about your business. Access your customer portal at any time and meet with your Account Manager every 90 days to review your R&M strategy.
Metrics we track for you include:
Repair vs. Replace
Total Cost of Ownership
Equipment History and Service Frequency
Vendor Performance
Time and Cost Savings
ROI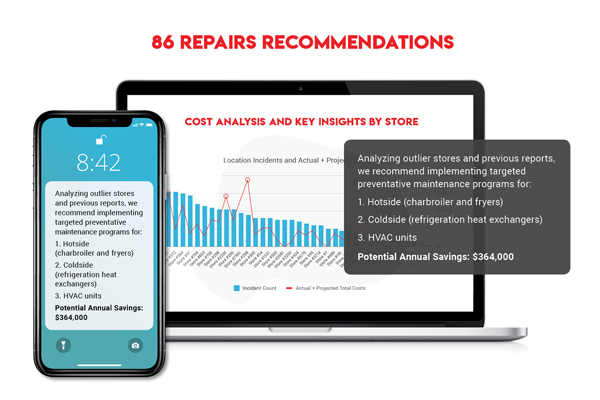 TESTIMONIALS
Trusted by the best restaurant operators in America
"In one year, 86 Repairs decreased our R&M spend from 1.25% to 1.01% of our budget," which resulted in over $3,300 of annual savings per location."
How much could your restaurants save on R&M each month?
Calculate your savings with our free Repair and Maintenance Savings Calculator.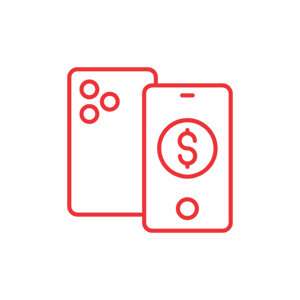 THE BREAKDOWN
Sign up for our monthly newsletter where we share best practices, tips, and tricks on how to save time and money on equipment repairs.