HOW IT WORKS
Take the pain out of restaurant repairs.
Are you ready to get greater control of your R&M? Let us show you an easier way to manage repairs and maintenance.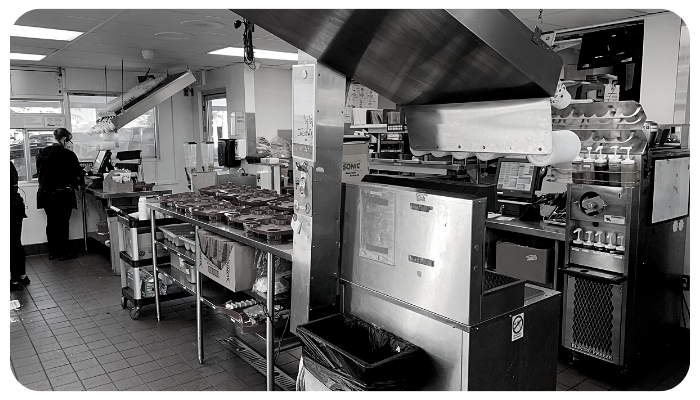 What is the 86 Way?
We're the equipment repair and maintenance platform built for the restaurant industry.
THE 86 WAY
Data
We use your data to create your complete Customer Profile, including Digital Equipment Inventories, preferred vendor lists, staff contacts, spending approval and not-to-exceed limits, and more.
THE 86 WAY
Detect
When something in your kitchen goes wrong, all your team has to do is call/text/email and 86 Repairs manages the rest.
THE 86 WAY
Diagnose
Our team troubleshoots and checks warranty status on every incident, saving you time and money on unnecessary service.
THE 86 WAY
Dispatch
If a technician needs to resolve the issue, our team manages all communication and scheduling with our trusted vendor network or your preferred provider.
THE 86 WAY
Done
Our Customer Success Managers confirm work is completed, hold vendors accountable, and track all service history for you.
THE 86 WAY
Discuss
Your dedicated Account Manager will deliver actionable insights based on your service history including repair vs. replace recommendations.
Our Customer Success Managers are able to
successfully troubleshoot 18.7%

of service requests – saving you time and money on 1 in 5 incidents.
DIGITAL EQUIPMENT INVENTORIES
We build it. You keep it.
The first step is building your Digital Equipment Inventories. Our signature process brings together your data across locations to create one source of truth on your equipment repair and maintenance history.
What's included in your inventories?
Location information
Preferred vendors
Staff contacts
Spending approval limits
and more!
95%

of our customers didn't have these assets organized or a documented repair and maintenance process before joining our platform.
OUR SUBSCRIPTION SERVICE
Simple, transparent pricing.
No markups, no fees. Save money instead of wasting it on software your team won't use.
Flat, monthly subscription
Contact sales for a free quote
---
24/7/365 support
Unlimited access to Customer Success Team via text, call, or email
No user permissions or restrictions across staff
Digital Equipment Inventories built for you
Customer portal with insights dashboard
Dedicated account managers
Work order management
Access to comparative performance data by segment and market
Strategic saving and spending recommendations
Total cost of ownership tracking
Real-time repair vs. replace recommendations
NO TRAINING REQUIRED
Using 86 Repairs is as simple as sending a text.
Once your locations are onboarded, your team is ready to rock. There are no additional hoops to jump through when you go live with 86 Repairs.
No software
No training
No app installs
"We want to be the most professional organization we can be. Having loose ends [around R&M] and no standard operating procedure is not something a professional organization would do."
THE BREAKDOWN
Sign up for our monthly newsletter where we share best practices, tips, and tricks on how to save time and money on equipment repairs.