SIMPLIFY AP AND ACCOUNTING
Invoice Match
Tracking spending just got easier. Control costs better with Invoice Match, included with every 86 Repairs subscription.
When your team receives an invoice for a completed repair, just upload the document to our portal or take a picture with our mobile app, and we'll capture all invoice details to help you track spending.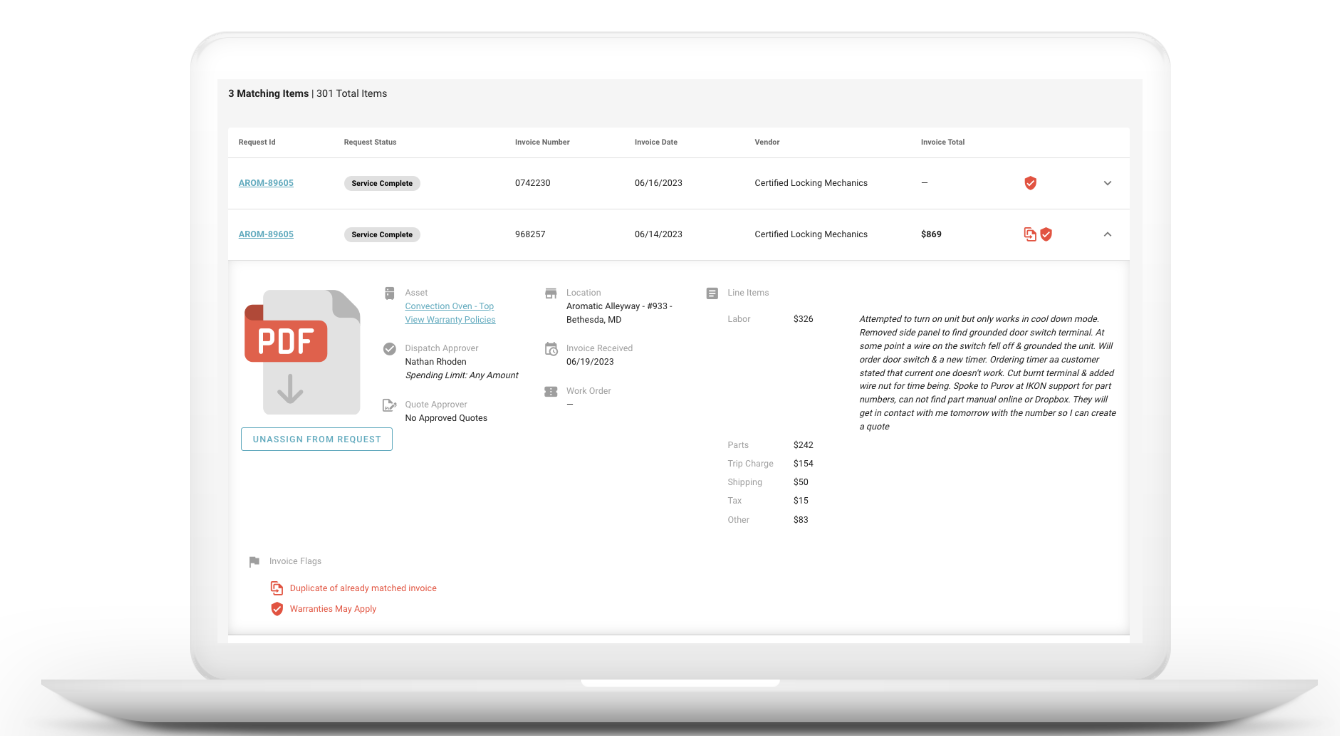 SEEKING MORE SUPPORT?
Invoice Assurance Features
Exception Flagging
We run your invoices through 10 separate checks to highlight problems like incorrect billing rates, duplicate trip charges, and more.
Invoice Dashboard
Stop spending time searching through emails and folders and instead, get one centralized view of all R&M invoice data.
Invoice Collection
We'll collect invoices within 30 days of completed service requests, eliminating the headache of chasing vendors or the surprise of past-due invoices.
Invoice Routing
Within 24 hours of receipt, we automatically route collected invoices to the correct billing contact, avoiding service disruptions when your invoices get lost or vendors aren't paid on time.
Direct Vendor Payment
We'll pay vendors after your invoices are matched to approved work and verified with Exception Flagging. This ensures timely payments to vendors, resulting in better service and stronger relationships.
Consolidated Invoice
Pay one monthly invoice to 86 Repairs for all completed and verified service, instead of juggling multiple invoices from each R&M vendor.
"86 Repairs is fantastic and absolutely awesome to work with."
— Adam Brewer
Maintenance Manager, Unbridled Chicken dba Zaxby's
The simple solution for restaurant repairs and maintenance
Save time and control costs so you can focus on growth.